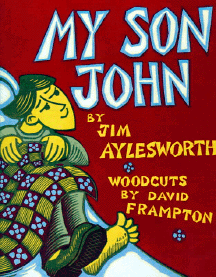 Fourteen rhymes about a cast of fourteen characters who manage to frolic on their farm. There is "My son John" and "My daughter Rose," "and plenty of children, pets, and action as the children play, eat, and in general go about their everyday tasks. Frampton's full-page color woodcuts illustrate each verse.


This book is currently available as an Owlet paperback (see below), reprinted 1997.


"Aylesworth, who's always so good with a rhyming beat, introduces a lively cast of characters to clap, march, or jump along with. In the tradition of 'Diddle Diddle Dumpling, My Son John,' Aylesworth offers 14 new verses, ... An absolute delight." Booklist, 1994.


"...fourteen new verses for the original Mother Goose rhyme." -- Horn Book, 1994.